The clean-up of radioactive waste from a residential street in Hunters Hill has been delayed for another four years, as the cost has almost doubled.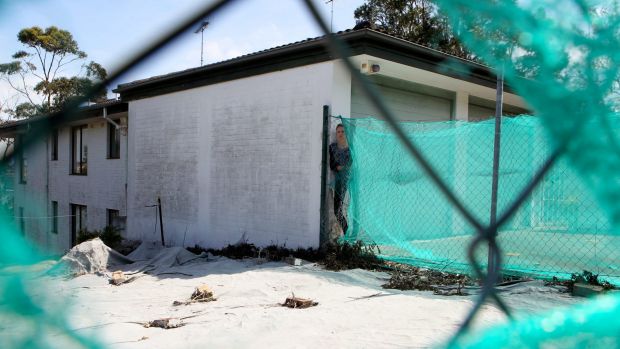 The Baird government was ordered by the Environment Protection Authority last November to submit a plan to remove toxic waste from six properties on Nelson Parade after a decade of delay and political paralysis.
The clean-up was to begin within 90 days of the plan being approved.
But Government Property NSW's annual report has revealed the remediation work won't be undertaken until 2016-17, and won't be complete until 2018-19.
Remediation costs have blown out from $12.4 million to $22.5 million "mainly as a result of changes in the final waste disposal location".
Philippa Clarke, of the Nelson Parade Action Group, said a delay until 2018 was "appalling".
"This is terrible news for us. There are elderly people in this street who are trapped in their homes. They can't sell. How will they cope with this situation for another four years?" she said.
The land was contaminated by a uranium smelter 100 years ago, and three homes acquired by the NSW government in the 1990s after the land was declared a health hazard.
But a 2008 parliamentary inquiry ordered radioactive waste be removed from the site because of the impact on neighbours.
A proposal to send the restricted waste to Kemps Creek in western Sydney was ruled out by the O'Farrell government, after widespread protests raised the political risk of losing the marginal Liberal seat in an election.
Property Minister Dominic Perrottet's office declined to say where the waste will be sent.
"The details of the disposal options being investigated are at this stage commercial in confidence," said a spokesman.
But the Baird government is understood to have abandoned plans to send the restricted material to a national nuclear waste dump, which is yet to be built by the federal government.
A report lodged by Government Property NSW on its plan to dispose of the waste was rejected by the planning department.
A Government Property NSW spokesman said the agency was "revising its submissions report following feedback from the Department of Planning and Environment and will resubmit the revised report in the coming months".
The remediation can't start until a suitable site is identified and all relevant approvals are obtained, he said.
The original 2011 review of disposal options had also examined interstate and overseas disposal of the waste.
Most of Australia's nuclear waste is stored at Lucas Heights in Sydney, or Woomera in South Australia. The federal government has shortlisted six possible sites for a national dump, three of which are in South Australia.
But the South Australian government has established a royal commission to examine whether the state should house a nuclear waste site, and won't change a state law banning nuclear waste storage until the royal commission has reported next year.
Labor Liverpool MP Paul Lynch said: "If this means the waste is not going to Kemps Creek then that's good news for residents in our area ... They ought now be far more transparent and forthright with the residents of whichever area they will send this material to."