Nuclear waste will be stored in Sydney at Lucas Heights
by: IMRE SALUSINSZKY, NSW POLITICAL REPORTER
From: The Australian
May 01, 2012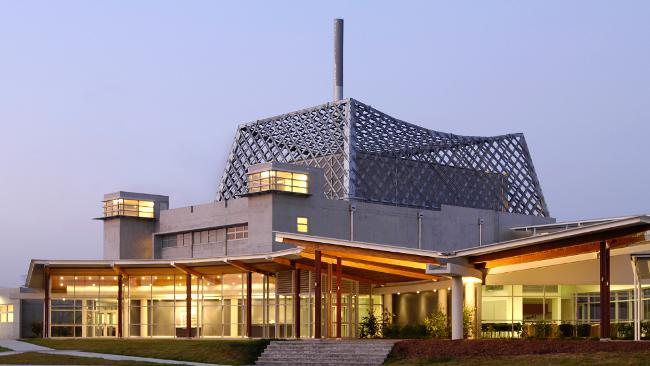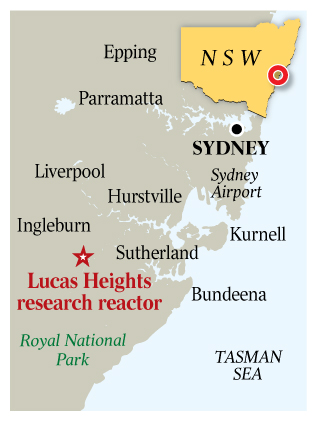 NUCLEAR waste due to boomerang back to Australia in 2015 will be stored in metropolitan Sydney, after decades of political dithering over a national radioactive waste repository in the outback.
The Australian Nuclear Science and Technology Organisation will today launch its application for a licence to build an 800 sq m interim warehouse on the premises of the research reactor at Lucas Heights, which has generated the waste during the 50 years of its operation.
Lucas Heights is in Sutherland Shire, about 20km southwest of the Sydney CBD.
More than 13 cubic metres of waste - equivalent to about one-third of a shipping container - is due to return to Australia in three years after being reprocessed in France to remove plutonium and residual uranium.
Under an international agreement, the waste, which will remain toxic for centuries, was exported to France in four shipments between 1999 and 2004.
It is intended it will eventually be moved to a national repository that will house radioactive waste from across Australia.
ANSTO chief Adi Paterson said yesterday: "For decades, Australians have benefited from nuclear medicine production, and environmental, industrial and minerals research undertaken at Lucas Heights.
"Along with these benefits comes a responsibility for Australia to safely deal with the by-products," Dr Paterson said. "Australia does not shy away from that responsibility, and ANSTO has comprehensive plans to safely manage it."
Dr Paterson said the warehouse would be so safe that a person standing next to it for an hour would receive about the same amount of radiation exposure as a traveller on a flight to Europe.
The waste will be shipped from France in a custom-built 6.5m steel cask with walls more than 20cm thick and capable of withstanding an earthquake or temperatures higher than 800C.
It will arrive in Australia at a port yet to be determined and will then be trucked to Lucas Heights under high security on a special multi-axle trailer.
Originally, it was intended the waste would be repatriated to a national repository in the remote outback. Such a repository was originally announced in 1992, and a site selected in remote South Australia.
But after a successful Federal Court challenge by the government of South Australia, the Howard government announced in 2004 it was abandoning the project.
A subsequent proposal for a national store for radioactive waste produced by commonwealth facilities was also ditched. Last month, the Gillard government passed legislation to establish a national repository for nuclear waste at an unspecified site, but this is not expected to be available until at least 2020.
Federal Resources Minister Martin Ferguson said yesterday: "Given the delays by successive governments in selecting a long-term national radioactive waste repository, it is appropriate Australia's nuclear waste be safely and temporarily stored by ANSTO until the national radioactive waste repository can be built.
"Responsibility for ensuring that any facility for temporarily storing Australia's nuclear waste at Lucas Heights meets world standards rests with ANSTO and the nuclear regulator, and they have my full confidence.
"Importantly, the Australian government ... now has bipartisan support to ensure that a long-term storage facility for Australia's nuclear waste is established in accordance with required standards and proper approvals processes as soon as is practicable."
About 10,000 Australians benefit each week from isotopes produced at Lucas Heights - which is Australia's only nuclear reactor - for medical diagnosis and treatment.
The Australian Greens want to close the Lucas Heights reactor and ban the import and export of nuclear waste.
More information on the nuclear warehouse proposal is available at www.managingnuclearwaste.gov.au